ISSUE: #0

PUBLICATION DATE: December 2002

CONTENTS: Untitled story tying in to the Prepare for Sudden Stop album released by JLK Records. Also includes a text page about the comic and the album, and an edited reprinting of RV&OI's entry from the currently-defunct unusualkentucky.com website.

NOTES: Bright green cover. This mini-comic is roughly half the size of a regular RV&OI comic (approximately 2.75 inches by 4.25 inches) and features a simple four page story. Included as a free giveaway in the packaging of the JLK Records release Prepare for Sudden Stop.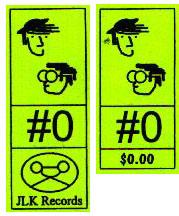 Two different cover versions exist: The regular edition, included with the CD release, features the JLK Records logo where the price would be. A variant cover edition exists with no JLK Records logo and a price of $0.00. The variant edition were given away at RV&OI tour appearances in December of 2002 and January 2003, as well as left behind in various public areas around the state of Kentucky and surrounding states, including rest area bathrooms, bus stations, telephone booths, inside vending machines and scattered in parks.
COMMENTARY: An amusing little tale, appropriate for the album that it is included with, although it bears a striking similarity to "Stop," from RV&OI Comics #4.
REVIEW: None yet.
Availability: Included free with the Prepare for Sudden Stop album, or from RV&OI themselves. Good luck.