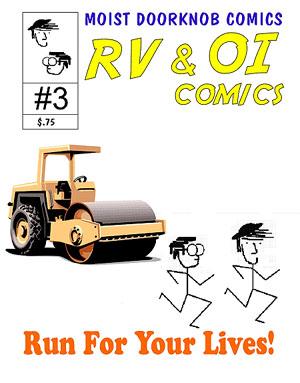 Click on image for full-sized version
ISSUE: #3

PUBLICATION DATE: December 2001

CONTENTS: "Run"

SUMMARY: RV and OI evade trucks, the police, and construction equipment.

NOTES: Full color cover.

COMMENTARY: The story in this issue has never appeared anywhere else before, although it is believed (but not confirmed) that the story was created by cutting and pasting pictures out of a magazine with the drawings of RV & OI. This issue appeared exactly ten days before the publication of issue #4, and due to the problems associated with the printing of that issue, has largely been overlooked by collectors and retailers. The print run for this issue was reportedly very low.

REVIEW: None.

Availability: Sold out.